Annual Reports Introductory Analysis
Introduction
In 2021, ICO supported 25 initiatives around the world. The initiatives work to alleviate poverty and/or advance education. This article offers a brief analysis of the initiatives' 2021 annual reports.
Poverty Relief and Education Advancement
The initiatives' 2021 poverty relief funds supported necessities, such as those listed below.
Food

(11 initiatives funded emergency food relief, food growing, and food for students, 44%)

Employment

(9 funded wage-earning employees, including casual, 36%)

Housing

(6 funded shelter, such as students' rent, 24%)

Training

(7 funded skills training, including trades, 28%)

Community development

(5 funded community-wide projects, including a community centre, a community well pump and cistern maintenance, and an irrigation canal, 20%)

Business support

(4 funded small business loans, grants, and entrepreneurial training, 16%)

Health

(3 funded individual medical and health promotion interventions, 12%)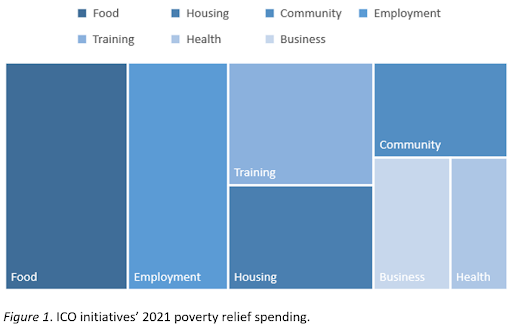 The initiatives' 2021 education advancement funds supported students, schools, programs, teachers, and computers.
Students

(12 initiatives funded individual students' tuition, extra fees, supplies, living expenses, scholarships, 48%)

Schools

(7 funded school construction, equipment, furniture, maintenance, expansion, 28%)

Programs

(6 funded program content and delivery, learning support, 24%)

Teachers

(5 paid teacher salaries, 20%)

Computers

(2 funded personal devices for students, computer labs, a teacher, 8%)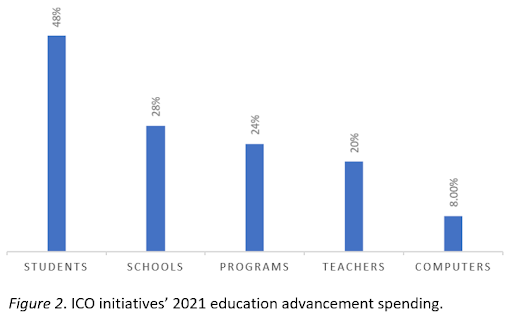 Initiative Operations
Effective staff and working relationships were reported. Due to COVID-19 restrictions, information and communications technology replaced travel and in-person meetings.
The ICO initiatives have put in place standardized procedures for financial management, such as scanned receipts, spreadsheets, bank statements, monthly reports, on-site audits, student letters and report cards, regular photo, video, and narrative reports, and regular update meetings.
The ICO initiatives have similar risks (e.g., loss of field leads, insufficient funds for yearly operations, changing exchange rates, uncertain costs, crime, corruption, adverse weather, changing government policies, and natural disasters, among others). They have developed risk management plans.
Initiative funds were raised in 2021 through personal donations; grant proposals; charitable foundation grants; social entrepreneurship; ICO's website; social media; partnerships with local civic groups and churches; newsletters; online fundraising; ongoing communication with sponsors and key donors, and so on. Fundraising is a mainstay of most initiatives' work and a constant challenge.
If an Initiative Lead were no longer available, the initiative could be continued by a spouse, a co-lead, friends, project associates, a team in Canada, field leads or local leaders, a regional NGO, and legacy giving.
Impact of COVID-19 in 2021
Some initiatives assumed responsibility for emergency food relief.

School closures forced the suspension of some programs.

Students and their families experienced additional financial pressures; receiving degrees and finding work were delayed.

Travel restrictions prevented in-person meetings and regular modes of shipping; relationship-building was stalled; fundraising events were cancelled.

More time was spent on communications and planning emergency measures.

Access to technology for online learning was a challenge.

The ICO initiatives' response mitigated some of the worst effects of the pandemic.
Conclusion
ICO initiatives alleviate poverty (e.g., provide food, housing, employment) and/or advance education (e.g., support students, schools, programs) in communities around the world.
In 2021, COVID-19 caused hardship and disruption; for example, some initiatives suspended their programs and some reallocated funds to emergency food relief.
Reliable human resources, communications, financial management, and so on, enabled emergency response measures to be enacted and work to continue.
The initiatives might consider developing plans for future emergencies, which will be informed by their assessment of the pandemic's impact on their operations and on their communities.
General knowledge sharing and reporting of lessons learned by initiative team members can strengthen the effectiveness of ICO's global network.
From RSA Journal Issue I 22:
Healing Education
"As Gert Biesta, the Dutch philosopher of education, shared in 2021's World-Centred Education: "Education is a thoroughly practical art, and educational sciences are at their finest when they inform the artistry of others." How, then, do we ensure that our artistry as educators does not contribute to further destruction of the earth?
Several of earth's fundamental systems are at tipping points which will threaten the future of life on the planet. I see regenerative higher education as a fundamentally ecological, or living-system, approach to education that connects with people, places and the planet as a healing force. As the American biologist and author Janine Benyus said, "Life creates conditions conducive to life"; that is to say, living organisms are primed to adapt in ways that perpetuate their very survival. The question, then, is whether humans can similarly shape the conditions under which education creates conditions conducive to life? This requires challenging many beliefs held sacred within modern higher education, such as the predictability of learning outcomes."
Click this link to read the rest of the article.
Do you have an article you would like to see included in the ICO World Journal?
Email us at communications@innovativecommunities.org