Children Are Finally Back at School
The 'new school,' which opened just over 2 years ago, is finally in operation. We've helped get the school ready to welcome the children back during this pandemic by supplying thermometers and hand sanitizer stations in the classrooms for students.
But the school is still experiencing birthing pains: a malfunctioning septic tank, insufficient water and electricity. We have been poised to help out with some much-needed equipment including a copy machine and computers, but have been waiting for the electrical problems to be resolved. Once again, we breathe a sigh of relief that we have this wonderful couple – Candelaria and Gregorio – watching over the project. Gregorio helped solve the water problem, and began working on the electricity, hiring an electrical contractor to go over all the connections in the school. It was discovered that some of the wires had been wrongly connected. Then it was found that the whole immediate neighbourhood had electrical problems caused by 2 burned-out transformers and a welding business that periodically drew huge amounts of electricity. Gregorio is now working with the electricity-provider to try to correct all of this.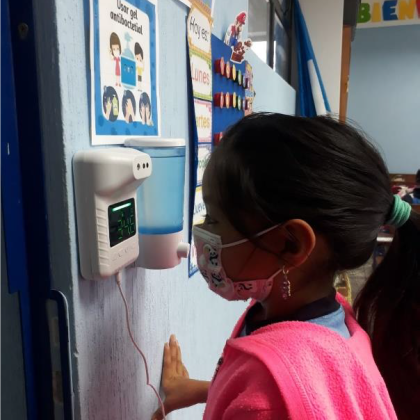 In the meantime, the school is facing problems caused by the COVID-mandated requirement for smaller classes. The large space intended for a 'computer room' is now being used as a classroom. The school principal is asking if ICO could provide materials to construct 2 additional classrooms on the roof, with the idea that parents will do most of the labour. This is Guatemala – a land where nobody expects the government to do much of anything. To learn more about Guatemalan schools:
https://www.npr.org/sections/goatsandsoda/2022/03/30/1088882574/why-lots-of-kids-still-arent-back-in-school-in-guatemala?utm_source=facebook.com&utm_campaign=npr&utm_term=nprnews&utm_medium=social&fbclid=IwAR0YHsLM8WfO18e5gFWPeuUQTZW6dPmavV2bzRzod4-hE1yYt1dpGhDYoFU