Hello friends of ICO's Bondo School Sponsorships Initiative, here's a mid-year update from Jennifer and Mark. This is a busy year for the students, as Kenya has programmed 4 terms in 2022 versus the normal 3 terms in order to catch up with Covid schedule delays from the previous years. This means that in January they started Term 3 of last year, in April Term 1 of this year which is now coming to an end. In July Term 2 starts followed by Term 3 at the end of September. In January Term 1 of 2023 starts which is part of the normal back to school cycle.
We currently have 8 students in elementary school (one in Class 5, two in Class 6, two in Class 7, and three in Class 8) and 4 students in high school (one in Class 2, two in Class 3, and one in Class 4). Three students graduated from high school in April and will be joining trade schools as early as September (we are still finalizing the details of which trades and which schools – more to follow on our next update).
Two of our former high school graduates are currently at postsecondary training institutes (plumbing [4 years] and social work/community records [3 years]). Also, as you may recall, one of our star students Barack is poised to join Baylor University in Texas in September on a Kenya government scholarship; he's just waiting for his US Visa to be sorted out.
Finally, we are so proud of Mary, who was one of the first sponsored ICO students way back in 2011. Mary recently graduated from Jaramogi Oginga Odinga University of Science and Technology (JOOUST) with a Bachelor of Education (Special Needs Education) with IT. Her grad photo is attached to this post. Congratulations Mary for your hard work and persistence in achieving this amazing goal! Mary has also been our onsite coordinator for many years; without her we could not keep this important project running.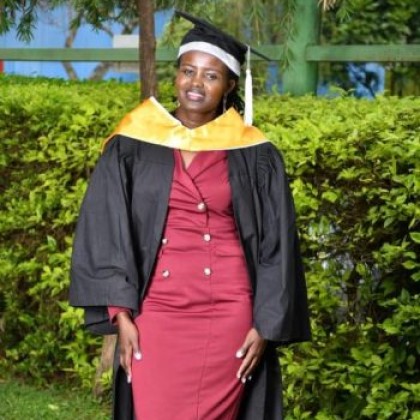 Mary, Bachelor of Education
That's it for now, thanks for reading. Donations are always welcome and can be made here InnovativeCommunities.org Foundation. For those of you who have donated in the past thank you so very much for your continued support; without you we couldn't have achieved what we have. Wishing everyone a safe and enjoyable summer, and we'll be in touch with another update later in the year.