Hello friends of ICO's Bondo School Sponsorship Initiative – here is our December 2021 update.
17 of the remaining sponsored students have just completed Terms 1 & 2 of their respective years and will finish Term 3 by April. Normally, Term 3 aligns with the end of the calendar year, however currently there is a misalignment due to previous COVID school shutdowns (where the children had to stay at home and ICO provided emergency food relief as previously reported).
Here is the breakdown of classes: in private elementary school, we have 1 in Class 4, 2 in Class 5, 2 in Class 6, and 3 in Class 7. Here is a picture taken of 7 of the 8 elementary school children at the start of Term 2 in mid-October: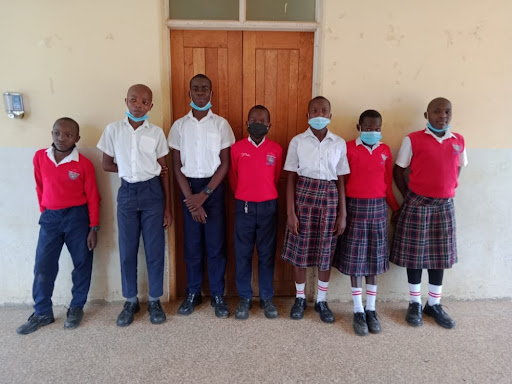 In private high school, we have 1 student in each of Forms 1 & 2, and 2 in each of Forms 3 & 4. There are also 2 students in university. Sheryl, one of the girls in high school Form 2, continues to score close to the top of her class and she is aiming to become a medical doctor.
Here is some holiday artwork created by Sheryl: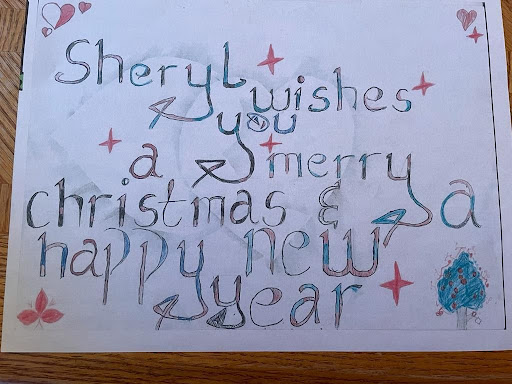 From the group above, 2 boys will graduate from high school by April 2022 and will then enter into a trade school.
ICO also supports another 2 students in public high schools. They have proper lodging – one is in one of the 3 houses that we built through ICO, and the other one is in rented quarters paid by ICO.
John, a recent high school graduate, entered a 4-year plumbing program in a national trade school in September. Once he completes this, he should land a good job as Kenya is short of plumbers and electricians. Beatrice, another recent high school grad, will enter a 2-year social worker program in January.
We have great news!! Barack, a total orphan, and our 4th sponsored child, is now slated to go to Baylor University in Texas on a 4-year Kenyan scholarship pre-medical course. He ranked #4 in the Kenyan national exams. He is very nervous but excited, and now has a passport etc. We realize that it will be a very steep learning curve for him. Jennifer plans to meet him in Texas to help him get set up in August, 2022.
Our next success is Mary, our first sponsored girl. She is also a total orphan and has just graduated from university this December as a special needs educator. She has also been an excellent ICO onsite coordinator, managing the needs (supplies, school fees, etc) of the younger students. She has done an amazing job disbursing the ICO donor funds sent to Kenya, and ensured that hundreds of receipts made their way back to ICO for a full accounting of funds spent. Without her, we would not have been able to continue…thank you so much Mary!
Since we have started ICO's Bondo initiative, 3 girls finished 2 years at a catering and serving school, 3 boys became electricians and are working, and 1 boy became a metal worker. – all of these children came from a poorly performing primary school which we had revamped with fencing, water tank, classroom partitions and fresh paint. The school has now become a top performing school.
Now more about John, who was mentioned above entering a 4 year plumbing trade school program. John grew up dirt poor and came from an impossibly difficult family situation, and he had hardly, if at all, gone to school before we met him in Bondo in 2012. He collected and sold scrap metal for a few shillings so that his family could eat. For his clothing there was not a piece of cloth that was bigger than 10 inches without a tear – below is a picture taken of John at the time from our rental quarters in Bondo: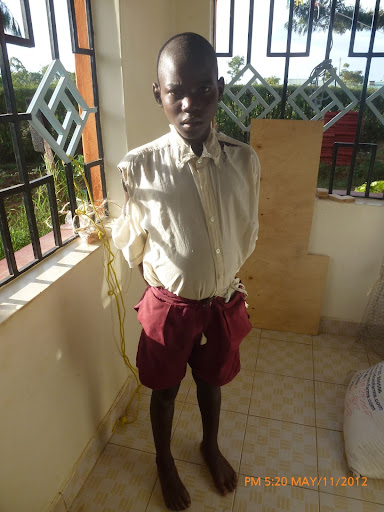 We found John living in a mud room with his handicapped mother and 4 other siblings. Next to his mud room were 5 other mud rooms with families in similar circumstances. Behind that row of mud houses was another row of mud houses. At the end of these 2 rows there was a pit, with only a few sticks wrapped with ripped plastic for privacy – that was everyone's shared toilet, with no running water for cleaning. Since we started ICO's Bondo initiatives we have sponsored 12 children from these mud row houses.
We sent John to a private boarding school in Class 4 as our 2nd sponsored child. He had a terribly hard time adjusting in the first year, it was very traumatic for him – but with lots of support he managed to finish high school and has started at a national plumbing trade school. He is very grateful. Below are some pictures of John's living quarters at the trade school:
John (second from right in light blue) is also a great addition to the school's football team!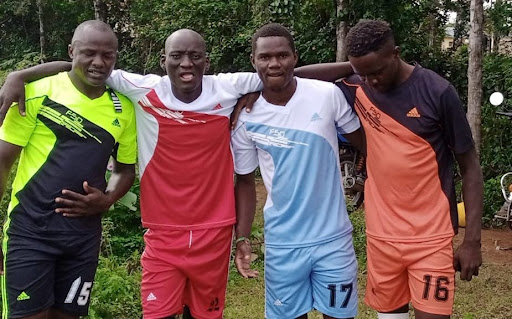 Since 2012 we have secured 3 plots of land for 3 widows, and built 3 houses for them. 2 of the plots were also fenced with barbed wire and corrugated iron gates. The first house was funded by Jennifer herself and was built 9 years ago for widow Joyce and her 5 children. The second house was funded by generous ICO donors and built 8 years ago for widow Millicent and her 5 children. The third house was again funded by Jennifer and was built last year for widow Peres and her 5 children. Jennifer is hoping to secure another piece of land in the coming year and build a house for another widow and her 3 children – after that she is planning to do 1 more for 1 more mother and then she is done :).
In addition, during our time in Bondo a number of years ago, we befriended Jacob, the owner of a tiny local cyber/print shop whose services we used. Jacob sends us all of the scanned receipts, reports, etc and bills us a few times per year – this way all that the mamas and students have to do is to drop off the paperwork with Jacob for onward forwarding to us in Halifax without having to pay him. ICO also occasionally provides support towards school fees for Jacob's children.
Thanks to your generosity we are able to continue to support this project from our home in Halifax. We have almost daily contact with our onsite coordinator Mary, the older students and the mamas. Thanks for your faithful support and trust in us and ICO. New donations are always welcome and can be made at InnovativeCommunities.org Foundation.
Thank you and all the best for 2022, Jennifer and Mark.