VICOBAs make a difference!
The Mamas in the Maasai community near Makuyuni have taken action! Two Village Community Banks, or VICOBAs, have been constituted and are now fully operational. Nashipay VICOBA with a membership of close to 60 people (almost all women) focuses on agricultural businesses; Bead by Bead VICOBA and its 25 Mama members has set its sights on creative endeavors, including the possibility of a sewing manufacturing project.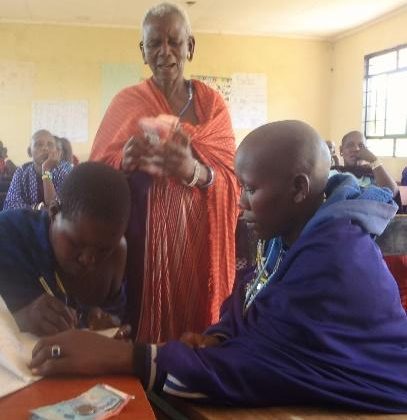 Each VICOBA meets weekly and completes a prescribed set of business practices, including confirming attendance; weekly selling of shares recorded in each member's passbook; contribution to the Community Fund (a pool of tshillings to help a member in need); loan payments; and requests for and issuing of loans. There is time devoted each week to consider the general function of the bank. The funds, passbooks, and all legal documents are stored in a metal lock box that has three locks.
The keys for the three locks are held by three members elected by the membership as trustworthy. The box itself is kept in the home of the member deemed most trustworthy. The weekly ritual of opening and securing the box is akin to our Western practice of accessing our safety deposit box. This short video shows how their security system works.
The VICOBAs are fully operational with growing operating capital. The Nashipay VICOBA has set its sights on increasing its operating capital to allow larger loans for its members.
It is seeking a donor who would match their contributions up to $2000. If you are interested in offering up a fund the members would match … please contact Colleen at colleenhanley@innovativecommunities.org
Karen Schrey and Colleen Hanley had the opportunity to work in the community for 2 weeks in early May, 2022.