January – June 2023
The pandemic suspended our team's travel and design/build projects in Ghana, but Jennifer, Keith and John have continued supporting our Ghana Community with the help of our local coordinator and leader Frank Appiah-Kubi. Frank remains based in Kwaso, Ashanti Region. In addition to his full-time teaching position he keeps his fingers on the pulse of the communities we have worked with in the past, most notably Abetenim, Kwaso and others. For the time being our work has focused on the educational and health needs of young people, identified by Frank, and known to us. We have also been involved in funding water-related projects and assistance with classroom construction.
January 2023
Laptop purchases for supported post-secondary students (2).
School fees for several students in post-secondary programs.
School hosteling fees and miscellaneous school supplies for several students.
Transportation costs from home to remote school for supported students.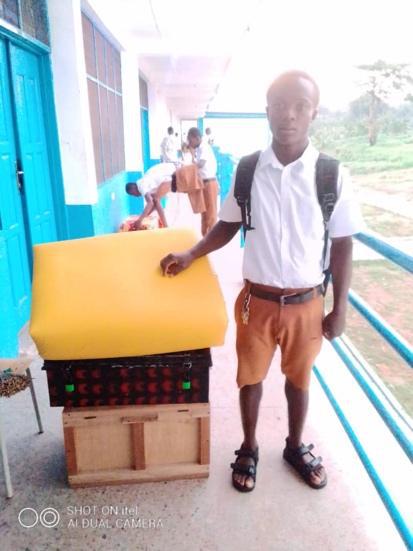 Michael is ready for university!
February 2023
Expenses for two students suffering from sickle cell anemia, including medications and, for one student, surgery and follow-up care, including the purchase of a new wheelchair.
Ongoing educational support for several students, including registration fees, supplies, and transportation.
March 2023
Support for the completion of a public latrine project in Okarase, paying for roofing materials.
Assistance to an additional five students to attend high school.

April 2023
Okorase composting latrine project is completed and opened for public use.
This style of latrine is waterless, with a contained concrete composting chamber which diverts urine, and composts fecal waste.
More student registration fees and school supplies.
More medications for the student with a more severe case of sickle cell anemia, as well as medical check-ups. The wheelchair has been very helpful for her to live an almost normal life. Good progress being made.
Our colleague Frank turned 40!
May 2023
Our young student with sickle cell anemia suffered a setback and required further medication.
Two more students are registered for post-secondary education, tuition fees also advanced.
Medical tests and clinic fees are paid for our two students affected with sickle cell anemia.
June 2023
Mercy continues to improve and has begun taking a few steps on her own, without the wheelchair. More medication costs are covered. She requires special transportation to school as her condition, though improving, does not allow her to travel on the very crowded student bus.
Student results start to come in, including some exceptionally good marks by Michael, our engineering student.
Over the course of these first six months of 2023, we remain in close contact with our Ghana community both through Frank and directly with individuals, sometimes on a daily basis. A few individuals have been personally supported outside the ICO network for incidental expenses and help for accommodation and food.
Submitted by Jennifer Corson, Keith Robertson and John Crace