The Solterre team of Jennifer Corson, Keith Robertson and John Crace returned to Ghana in late March 2019 for just under two weeks. It was a shorter time frame than past visits but no less ambitious an agenda. With funds provided by our network of supporters and the Harbourside Rotary Club in Halifax, we revisited our work in Abetenim and expanded our field of operations to several other villages. Our stalwart and devoted NKA colleague, Frank Appiah-Kubi, accommodated us at his family dwelling in the village of Kwaso. He arranged the loan of a truck, served as our constant guide and facilitated introductions to several village chiefs, teachers and other key individuals in support of our work.
Our work can be summarized under 4 headings:
The Abetenim Library was built in 2015 and taken off the electrical grid with a rooftop solar power plant in 2017. The building, constructed in traditional rammed earth, has held up extremely well. It is a high-use facility serving beyond the traditional library function to an overall learning space, community centre, health clinic and meeting place.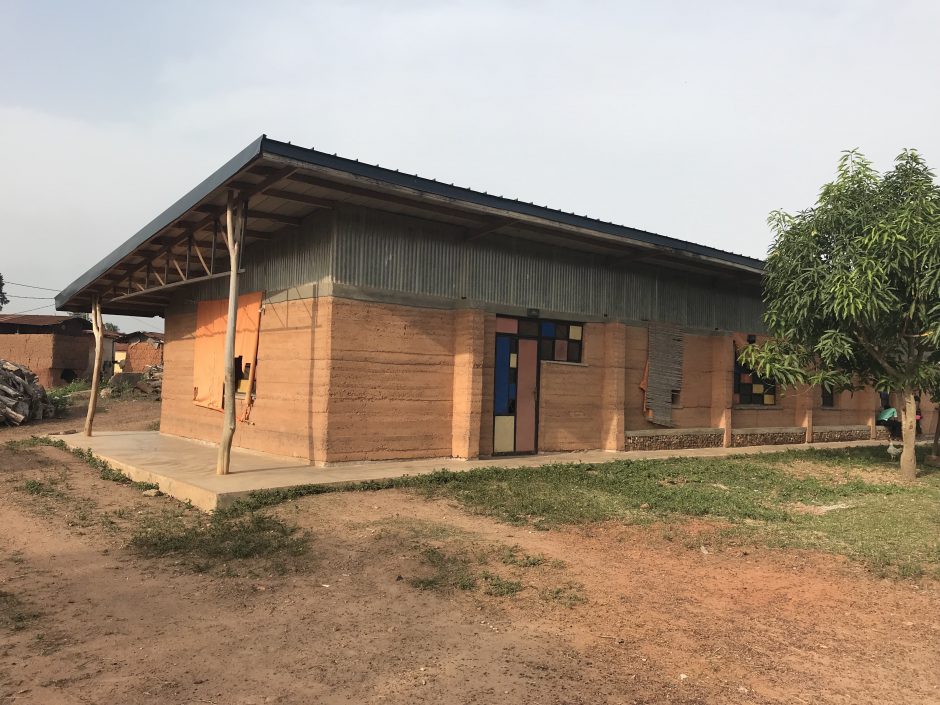 This year, an inventory was taken of minor maintenance needs and the work assigned for ongoing repairs and upkeep. The requirements for sustaining building operations were reviewed with the community and a new librarian was nominated to continue this important work. A celebration was held to mark the library's success and the chiefs from the nearby villages of Timeabu and Korase attended to witness the occasion and fully appreciate the benefits such a facility might offer their own villagers.
Education

Solterre Design in partnership with ICO and the NKA Foundation has been working in the village of Abetenim for the past four years to ensure equal access to educational opportunities for young people graduating from junior high school.
As many families in the village lack the financial resources to send their children out of the community to attend high school, education is a privilege in the village. Attending high school in a nearby town is often out of reach for families in Abetenim, as the cost of transportation, books, uniforms, and fees are too high.
Solterre Design has worked to raise money from private donors in order to fund the high school education of the classes graduating from junior high. 2019 marked the first year of high school graduations by the first group of funded students. One student was also funded at the community college level and graduated with a certificate in construction technology.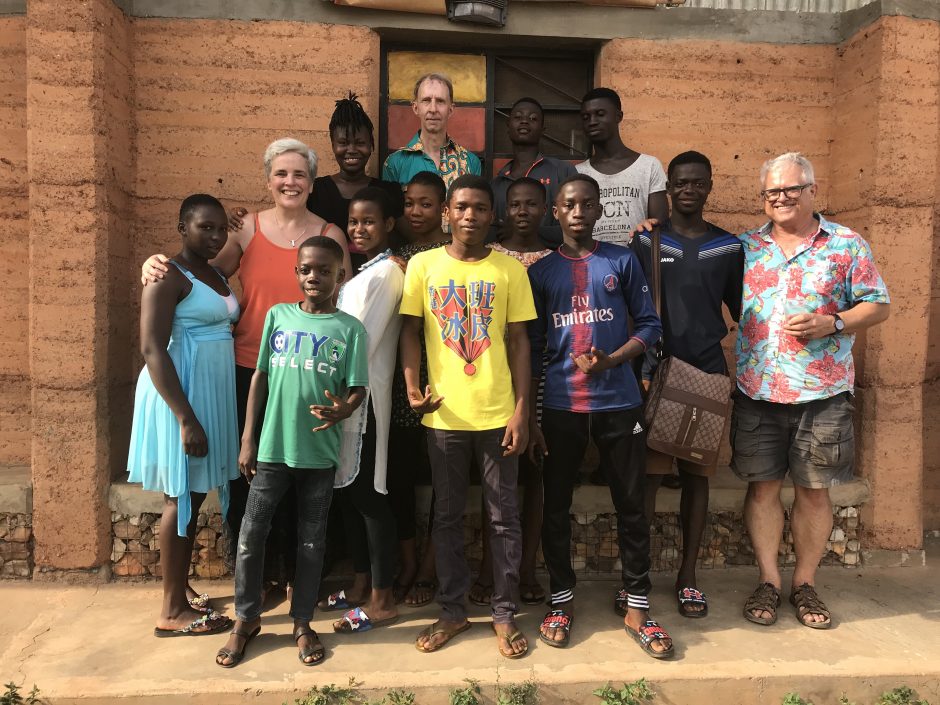 The Solterre team delivered hands-on workshops in the construction of rocket stoves and the assembly of lighting kits – including the demonstration of basic electrical circuitry. The kits would later be distributed to homes in the villages of Abetenim, Korase and Timeabu. (Timeabu is a village of almost 1000 people with no electrical grid power). These workshops were delivered to junior high school students in Korase and have proven to have found sustaining interest amongst the students who typically have no opportunity for hands-on educational work.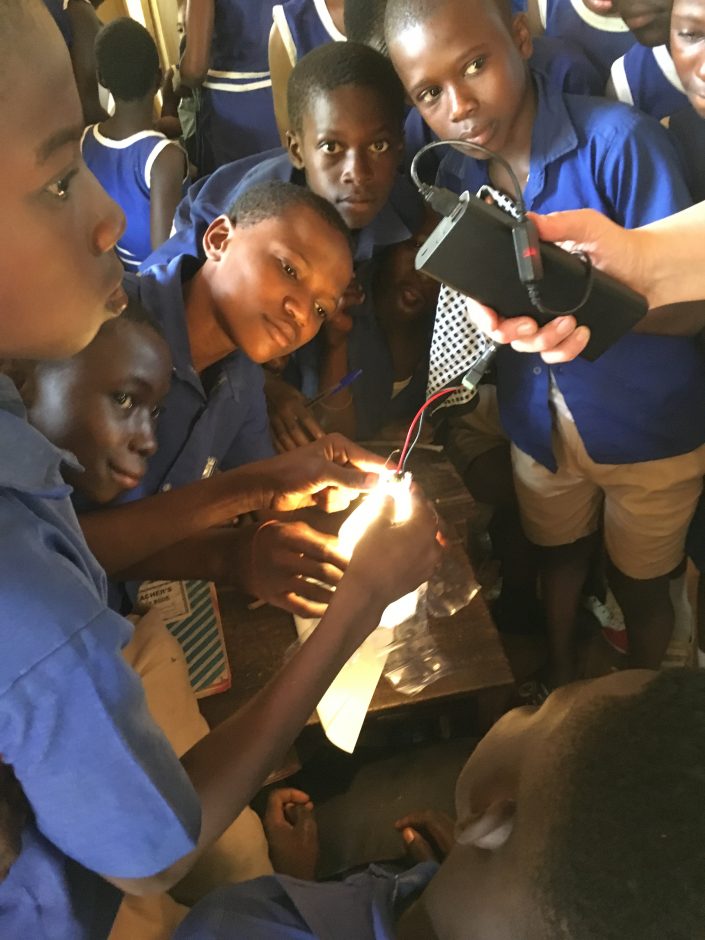 3. Water & Sanitation
Over the past four years, Solterre Design has focused on water and sanitation projects in the village of Abetenim. In 2019 we expanded our work to the village of Korase where the chief welcomed Solterre's recommissioning of an existing drilled well, provision of a new pump, and the construction of a gravity fed water storage cistern. The new arrangement was immediately embraced as the preferred solution over the previous water source – a hand pumped well at the bottom of a steep incline.
Back in Abetemim we reviewed the performance of the previously composting latrines at three locations and provided recommendations and training to ensure their proper use. Access to sanitation is an issue throughout the Ashanti Region and beyond. According to the survey we undertook in 2017, over 60% of the villagers rely on public latrines. These are typically unsanitary and poorly maintained pit latrines. The Solterre team designed and constructed several public latrines. These were located at the elementary school, community library, and clinic building. The latrines are a dry composting design that helps minimize water consumption. The composting process helps eliminate harmful bacteria.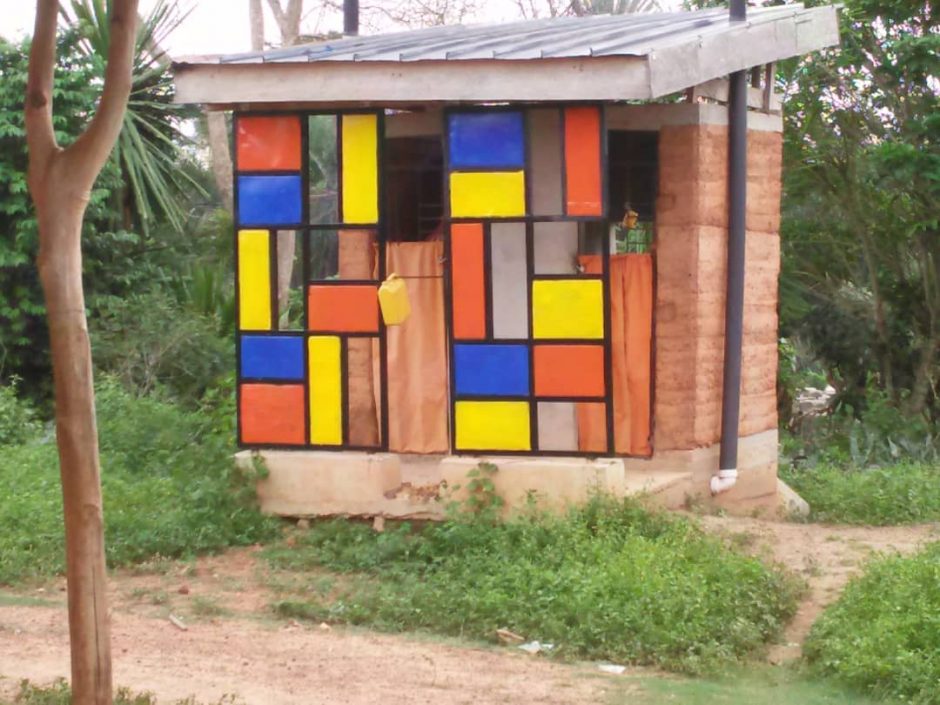 In 2019 Team Solterre arrived in Ghana with 16 light and power kits consisting of portable lithium ion batteries, 12v automotive LED light bulbs, wiring, switches, transformers and assembly hand tools. Several lithium ion battery packs had two level self-contained LED lighting and built in magnets for ease of mounting. Our intention, based on the more advanced work of Jaza Energy, with whom we consulted, (https://jazaenergy.com/) were to bring portable power and light fixtures to homes that were not connected to the electrical grid. These included outlying farm houses in Abetenim and Korase and the school building in Timeabu. Timeabu is entirely without grid electricity. Solterre team members conducted training in the assembly and use of the kits and community leaders in each of the three villages were instructed on setting up a small rental fee for the batteries and to arrange for their recharging in a timely manner.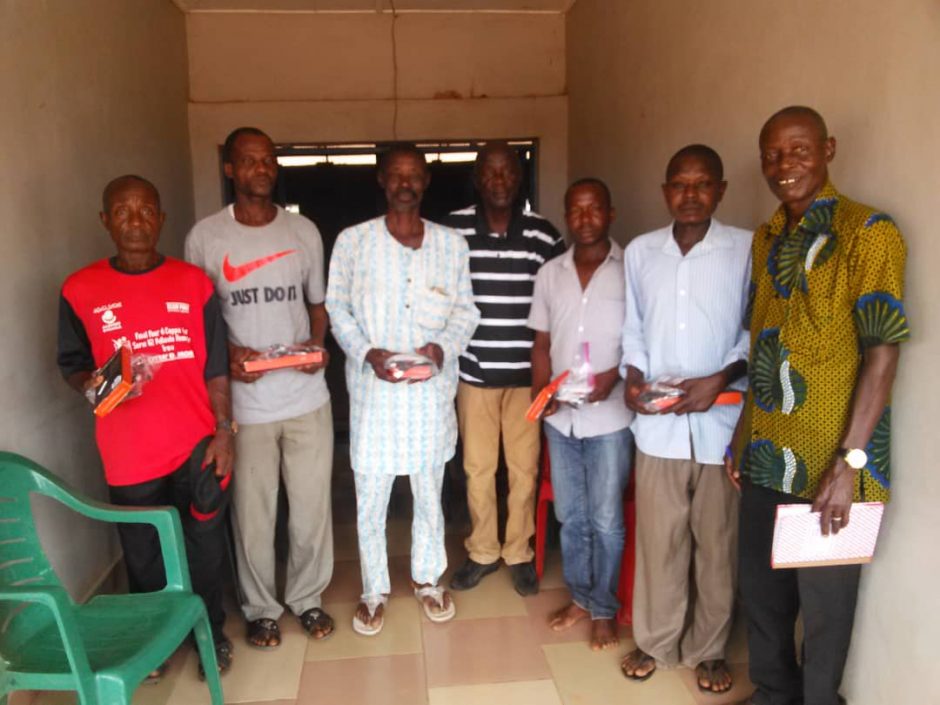 A subsequent visit by Frank Appiah-Kubi to the farmhouses near Korase reported that the lighting kits have been well-received and are a practical solution for those families.