A school in Umuodo village, in the south of Nigeria, currently has to run a diesel generator to pump water. This Solar Powered Water Pump initiative aims to provide a solar powered system that will do the same job for many years to come. The school is the most economical in the area and the only local school accredited with the West African Examination Council (WAEC) to administer government examinations. The school is open to all students (some of whom attend on scholarship) and is also trying to make water available for collection by anyone who needs it.
When it comes to fuel conservation, the initiative can go head to head with a Tesla… and come out ahead. Using solar power in place of the diesel generator currently being used to pump water for 700 students at a school in Nigeria is expected to save 2,200 L of diesel a year for somewhere in the range of 20 to 30 years. This initiative has the added benefits of:
Providing a school and village community with up to 2,000 L of water a day for farming fish, gardening, and general operations,
Eliminate the regular noise of the loud diesel generator,
Modelling green technologies that help inspire students, their families and others in the village and
Reducing the ongoing costs associated with pumping water (diesel and pump maintenance) for fish farming, gardening and general use so that limited school funds can be used in ways that are of greater benefit to students and teachers there.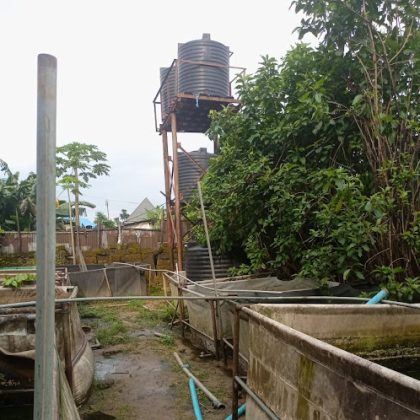 Running a diesel generator in order to pump water currently costs the school about $5,000 a year. While using solar power to pump water will be more cost effective and better for the environment, putting together the necessary capital to purchase and install a solar system has been an obstacle to date.
The Grundfos pump and solar panels are expected to last at least 25 years. In the first year alone, the funds saved by eliminating the need for diesel will more than cover the cost of replacing the pump and/or panels when required. Following the initial implementation, the school will be fully responsible for all ongoing maintenance and support of the well, pump and solar panels.
To read more about our Initiative Lead Adam and Field Lead Bona click here.
For more information contact our Initiative Lead:
Adam Beaton: adambeaton@innovativecommunities.org